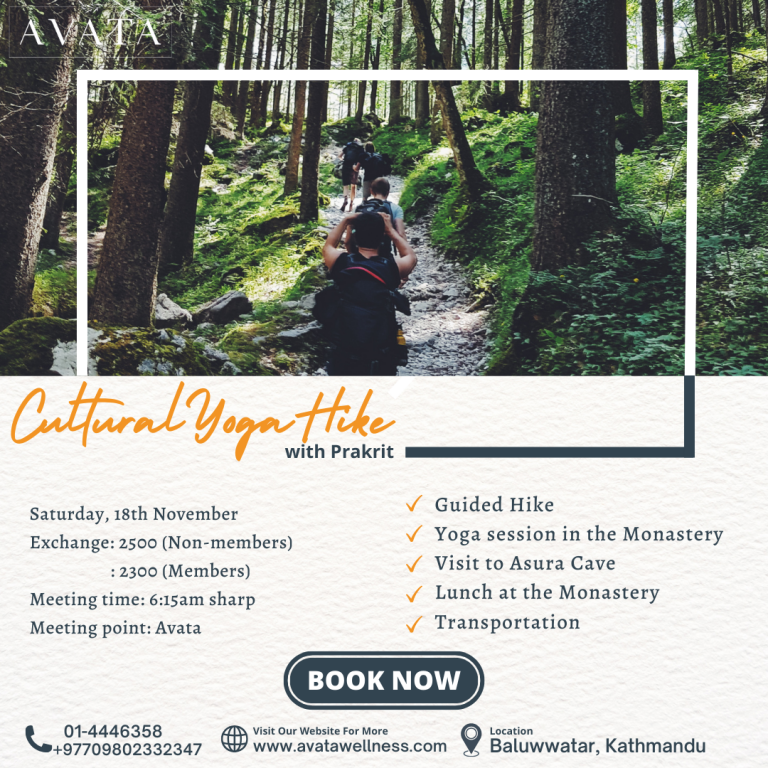 Cultural Yoga Hike
Experience the Pharping Cultural Yoga Hike!
Join us for an adventure blending yoga, hiking, and cultural immersion in Pharping. Here's a snapshot of what you'll enjoy:
Scenic Hiking Trails: Explore Neydo Monastery, wander through paddy fields, visit Asura cave, and soak in the stunning viewpoint.
Yoga Session in the Monastery: Unwind with a yoga session amidst the serene ambiance of Neydo Monastery.
Cultural Exploration: Discover Asura Cave, then relish a local lunch at the Monastery.
Convenient Transportation: Hassle-free travel from Avata to Neydo Monastery and back.
For your safety and comfort, please inform us of any medical conditions or concerns during registration.
Event Details:
Date: Saturday, 18th November
Pricing: 2500 (Non-members), 2300 (Members)
Meeting Point: Avata
Guided Hike
Yoga Session in the Monastery
Visit to Asura Cave
Lunch at the Monastery
Transportation provided
Don't miss this chance to immerse yourself in nature, culture, and wellness. Come along and let Pharping captivate you! See you there! Click here! to register.