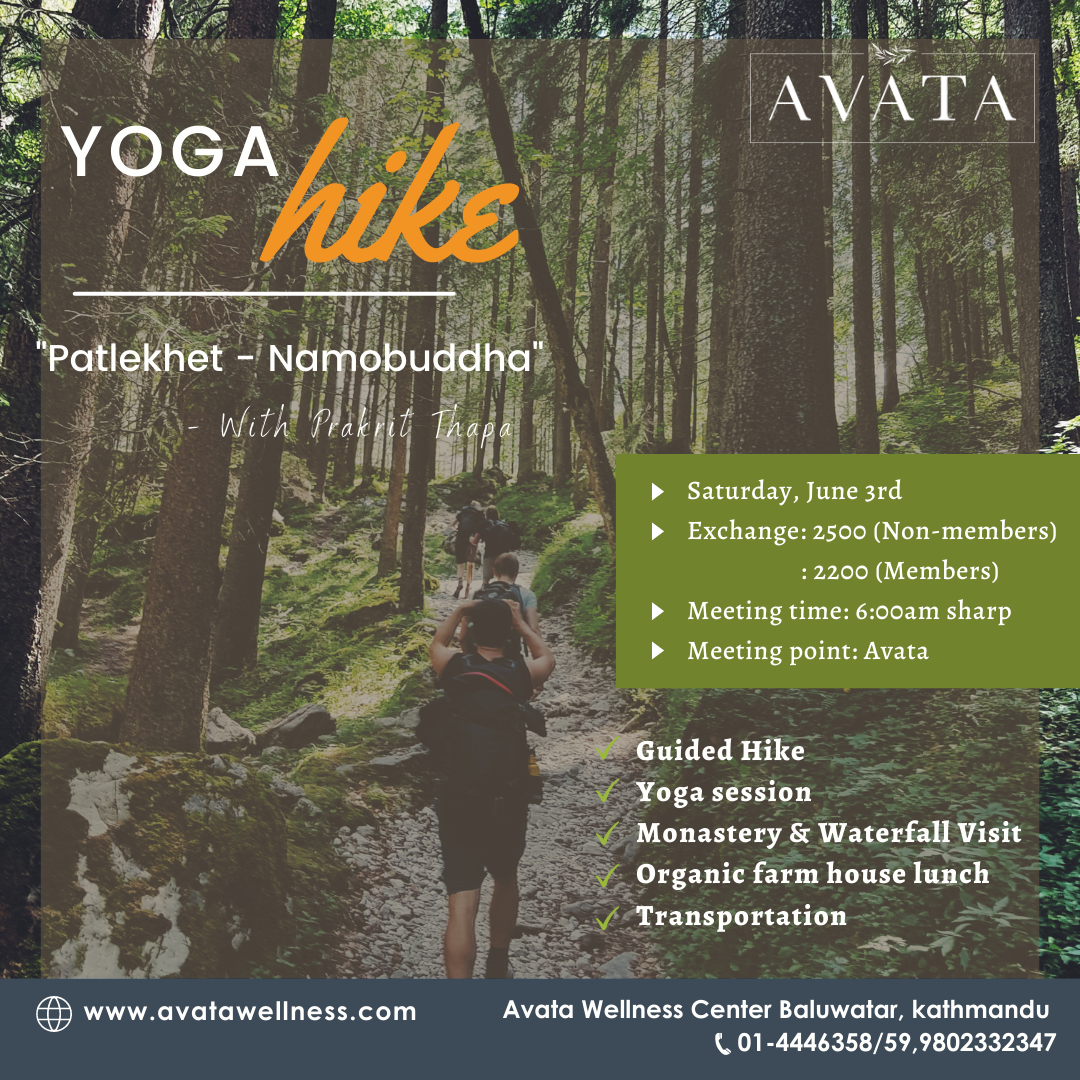 Yoga Hike - June 3rd
Lace up and join us for an exhilarating Yoga Hike adventure with Prakrit Thapa.
Discover the perfect harmony of yoga and hiking as you breathe in fresh mountain air, soak up stunning views, and find your inner peace amidst the beauty of nature. – it's time to elevate your yoga practice to new heights!
Details:
Hike Route: Patlekhet - Namobuddha
Date: Saturday, June 3rd
Assemble Time at Avata : 6:00 AM sharp followed by briefing.
Departure Time: 6:45 AM sharp
Hike Starts: 8:30 AM
Exchange Rate: Rs 2500 (Non-members), Rs 2200 (Members)
Yoga Instructor: Prakrit thapa
Hike Details
Participants gather at Avata Yogshala at 6:00 AM
Short briefing about yoga hike from 6:10 AM to 6:30 AM
Departure from Avata at 6:45 AM
Arrive at the starting point of the hike at Patlekhet Eco Farmstay 8:30 AM
Nature walk and followed by 60 min yoga session with Prakrit
Hike down to Patlekhet Eco Farmstay and Organic Veg Nepali Dal Bhat Set lunch with egg
Namobuddha Monastery visit
Back to Avata by 5 PM
Note
Please carry your own Water bottle, Raincoats, Insect Repellent, Energy bars, Sunscreen and Sunglasses
Yoga Mats are provided but we prefer you bring your own
First Aid is available in case of injuries
Use of fire, and plastic/disposal is discouraged during the hike
Please be responsible for your belongings
To register click here or DM us.